Education
Lemur Conservation Foundation's education projects span kindergarten through college. In a train-the-trainer model, LCF has hosted several high-school Teachers Institutes for Conservation Biology. Professors from nearby universities bring students on field trips. University students and recent graduates may also apply internships at the Myakka City Reserve. For more information about internships, click here.
LCF also holds an annual open house that draws hundreds of visitors interested in learning about LCF's programs and lemur conservation.
The Ako Project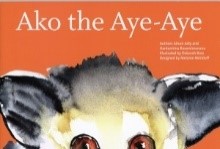 LCF has partnered with scientists and conservationists on the Ako Project, an international environmental education program funded by Nature's Path EnviroKidz, the Jolly family, UNICEF, the Liz Claiborne and Art Ortenberg Foundation, the McCrae Conservation and Education Fund, and LCF.
In 2005, LCF published a bilingual children's book in English and Malagasy titled Ny Aiay Ako (Ako the Aye-Aye), written by the late Dr. Alison Jolly, noted primatologist and lemur biologist, and illustrated by Deborah Ross. That picture book has since developed into a six-book series with accompanying posters and teacher materials that explore different Madagascar ecosystems and species of lemurs.